For those of you who don't know Cornwall is in the southwest of England, I live in a relatively small town called St Austell. Cornwall was and to some extent still is renowned for its use in tin mining and providing very large amounts of clay to the rest of the world.

Anyway it all started on the standard Saturday morning (waking up at half 1 by having an annoying friend ring you) The conversation went like this

Me: you woke me up
Him: OMG SORRY IM SO EXCITED I'VE FOUND THIS ABANDONED CLAY WORKS.

After a long conversation about whether or not there were guard dogs I reluctantly agreed to go and explore these buildings.
The Clay works we explored were later found out to of been unmanned since the 1940's.
Following our long walk to this area we found our first possible entrance.



We both decided seeing this was close to a road that it would be a bad choice to go in this way so we started looking for ways where it was harder to be seen trespassing.

Around the back of the works were some woods, we decided this would be the best place to get to the buildings.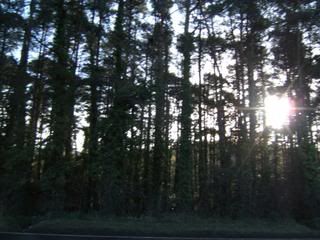 We went through the woods and it led us to this path



At the top of this path there was a door leading into the higher lever of the first building.



We started looking around and we found what seemed to be a foam bell, I don't understand why or how this would be used so if anyone has any ideas it would be interesting to know.
Before…



After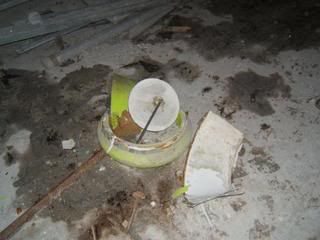 At the very end of one of the buildings we found a room full of wooden crates that were full of clay balls presumably for easier transportation of the clay.




There were also plastic containers full of a liquid that we think was used to harden clay.
These were all dated pre 1950.




We found this small contraption that you could spin, again like the foam bells it would be interesting to find out if anyone knew what this was used for.




Here is my friend being the general stereotype of a teenager




Luckily the fire extinguisher he threw broke open a door to a very interesting room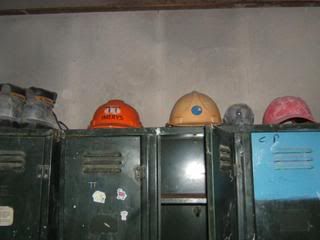 It was a locker room that had been left untouched again since the 40's; there wasn't much in there apart from some hard hats and coats but it was surreal imagining we may have been the first people in 67 years to enter that room.

After we left the locker room we went into another room that had some kind of machinery.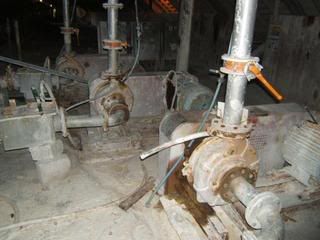 By this machinery there was a very heavy and very dusty operating manual.




Next we went onto the lower levels of the building where we found two huge lamps




and guess what…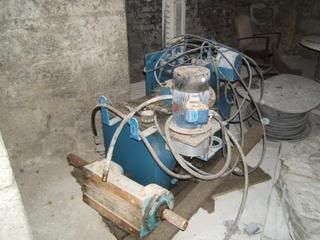 Yep more machinery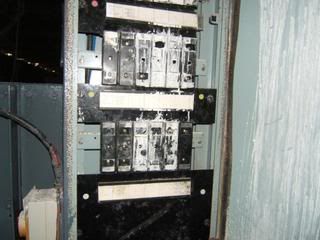 Some kind of switchboard, we started flicking switches and enjoyed watching some lights flicker on and off, it got boring after about 4 seconds.

MOAR light switches amazing aren't they?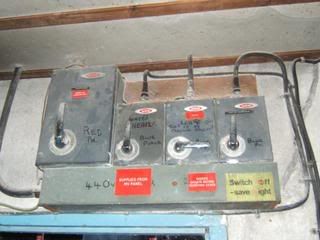 After inhaling clay dust for a while we decided to go outside to get some air and I took this photo of one of the old towers




My friend found an office and wanted to look manly kicking in the door (it wasn't locked)




Inside we found a lot of books and this safety poster




Next was what I thought was very interesting..




This tiny box, it now controls everything at the clay works I was amazed at how many men may have lost their jobs because of the advancement in technology.

We then went into another building and at one end we found a sort of trolley which we slid from one end to the other




On another level more machines




We then found some graffiti from other people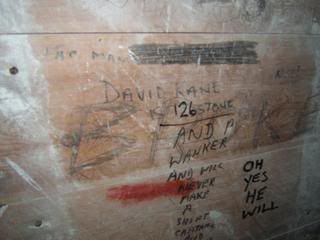 Another shot of one of the buildings





A view from outside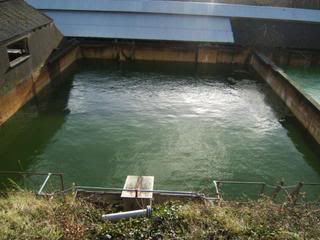 A photo of a settling tank





A longer shot of the tanks


The long walk home
WARNING: Some things described on this site are potentially dangerous/illegal. The writers of this site assume no responsibility for the consequences that may result from attempting the activities described here.

Want to submit an article? Email it to adventuresandmadness